5 FAKTOROV DUŠEVNÉHO ZDRAVIA
Duševné zdravie – všetci by sme ho chceli, ale nikto poriadne nevie, čo to je.  Dokonca sa zdá, že občas pochybujeme o tom, či vôbec existuje. V poslednej dobe boli medializované prípady, keď niekto spáchal samovraždu bez toho, aby si jeho okolie všimlo príznaky toho, že trpí. Tiež sa začalo hovoriť o tom, že depresia nemusí byť viditeľná navonok.
Inými slovami, diskutuje sa o tom, že utrpenie môže byť skryté a je niekedy ťažké ho rozpoznať bežnými hodnotiacimi prostriedkami. Je utrpenie súčasť alebo opak duševného zdravia? Ako to zistiť, podľa čoho posúdiť?
V súčasnej dobe je tendencia posudzovať duševné zdravie podľa daných spoločenských noriem, ako je napr. schopnosť mať zamestnanie, rodinu, byť usporiadaný a mať určité morálne zásady. Takéto pozorovanie asi ťažko odhalí intenzitu subjektívneho utrpenia, šťastia, či spokojnosti.
Psychoanalytický prístup nazerá na duševné zdravie inak – a to cez vnútorné prežívanie jedinca. Významná americká psychoanalytička Nancy McWilliams pripravila zoznam 16 faktorov duševného zdravia, o ktoré sa opieram aj ja. Sú to psychologické koncepty, ktorými Vás zaťažovať nebudem. Nasledujúcich 5 charakteristík je postačujúcich na to, aby sme porozumeli tomu, kde duševné zdravie začína a kedy môže byť problém:
1. Osoba verzus diagnóza (duševné zdravie nie je naše správanie ale to ako sa prežívame)
Žijeme v  dobe, kedy to externé je často dôležitejšie ako to vnútorné. Dokonca aj v najpoužívanejších diagnostických manuáloch duševných ochorení sa píše, že duševné zdravie je neprítomnosť symptómov. Sú založené na externom pozorovaní, ale nehovoria nič o individuálnom človeku. Poznáte tie krásne lesklé tmavočervené jablká, ktoré na Vás v obchode kričia "Kúp si ma"? No, na pohľad vyzerajú úžasne a my uveríme, že sú zdravé a chutné, no proste super jablká. Externe spĺňajú požiadavku zdravého ovocia. Aj vy máte tú skúsenosť, že keď ich umyjete, tak zistíte, že sa stále neprirodzene lesknú, akoby boli mastné? Začnete ich jemne oškrabávať, a idú z nich dole kúsky bieleho vosku. Musíte škrabať relatívne dlho, kým to vzdáte a jablko ošúpete. Konečne sa zahryznete a zistíte, že nemá ani šťavu, ani chuť, je sypké a mdlé. Pri jablku už vieme byť obozretní a radšej si vyberieme to, ktoré vyzerá reálne, dokonca má aj nejaké nedokonalosti. Ale pri osobách častokrát zostávame na povrchnej rovine. Má super prácu, peknú ženu, deti, chodí do spoločnosti … to musí byť šťastný človek …
Duševné zdravie zahŕňa celkovú duševnú pohodu, schopnosť byť úprimný k sebe samému, kapacitu zvládať stres, schopnosť osobnostného rastu, zdravé sebavedomie, fungovanie v uspokojivých vzťahoch a hlavne zmysel života.
2. Láska verzus vzťah (láska nie je formálny vzťah ale schopnosť byť autentický a spokojný vo vzťahu)
Vzťahy, ach tie vzťahy. Keď sa na to pozrieme externe, zdá sa, že keď máme manžela, deti, či známych, tak zdravo fungujeme. Nemusí to tak ale vždy byť. Poznáme a zažívame vzťahy, ktoré pôsobia ideálne v spoločnosti, ale žijú v nich dvaja nešťastní ľudia. Niektorí v tajnosti pretrpia celý život, iní sa nečakane rozvedú, ďalší skúšajú rôzne partnerstvá, ale vlastne je to stále o tom istom – sme vo vzťahu, ktorý nás nenapĺňa, nerozvíja a ktorý nás núti byť niekým iným. Sme vo vzťahu, ale zároveň sme osamotení.
Láska, to nie je len mať vzťah s inou osobou. Je to kapacita byť plne sám sebou a súčasne chápať druhého takého akým je a milovať ho takého aký je. Je to schopnosť milovať aj po prvotnom štádiu zamilovanosti. Zrelý vzťah zahŕňa schopnosť byť vo vzťahu autentickým, tvorivým a schopným intímneho vzťahu. Láska voči dieťaťu zahŕňa oddanosť, ale aj vlastnú integritu a hranice voči nemu.
3. Práca verzus zamestnanie (práca nie je zamestnanie ale zmysluplná aktivita)
Mať prácu neznamená iba schopnosť udržať si zamestnanie. Dnešný svet korporácií a plný administratívnej práce je priam stvorený pre možnosť celý život pracovať kvôli tomu, aby sme sa mohli tešiť na víkend. Výplata je často krát jediný prínos, ktorý pre nás naša práca má. Možno aj máme pocit, že to nie je správne, ale nemáme síl a ani predstavu, ako by sa to dalo zmeniť. Pocit bezvýznamnosti a nedôležitosti je problémom už v období dospievania. Už adolescent potrebuje cítiť, že má na niečo vplyv, že to čo robí má pridanú hodnotu, že na ňom záleží.
Práca znamená vykonávať zmysluplnú a dôležitú aktivitu pre nás a aj spoločnosť. Práca je niečo, čo nás má napĺňať, dávať vyšší zmysel ako len finančnú odmenu a iné istoty.
Známy výrok vystihuje podstatu psychoanalytického vnímania práce: "Nájdi si niečo, čo budeš rád robiť a nebudeš musieť pracovať jediný deň svojho života."
4. Hra verzus povinnosti (hra nie je len detská zábava ale tvorivá činnosť)
Na hru už nemáme čas, priestor a ani peniaze. To, čo nás baví, je často až na poslednom mieste, za všetkými povinnosťami, ktoré sme si pre seba pripravili. Už ani nevieme, čo nás baví. Užívať si život je luxus, vyhradený pre vyvolených. Myslíme si, že hrať sa môžu iba deti. A vlastne, dnes ani toto nie je také jasné, veď dnešné deti majú toľko povinností, že už ani čas na hru nemajú.
Akurát, že hra je prirodzená súčasť života a dôležitá pre zdravý rozvoj osobnosti. Hra je úzko spojená s našou tvorivou schopnosťou. Nemusíme sa nutne hrať s bábikou alebo vláčikom. Hra znamená, že si užívame, to čo robíme, sme do aktivity celí ponorení a tvoríme niečo nové, čokoľvek to je.
W. Winnicott, psychoanalytik známy hlavne pre pojem dostatočne dobrá mama a jej kapacitu vytvoriť pre dieťa bezpečný priestor na individuálny rozvoj, povedal, že dieťa aj dospelý človek dokáže byť kreatívny a použiť celú svoju osobnosť len a len v hre. A iba keď sme tvoriví, vieme objaviť sami seba.
5. Snívanie (spánok nie len fyziologická potreba)
Všade čítame, že musíme spať zhruba 7-8 hodín, aby bolo naše telo schopné sa zregenerovať. Ľudia, ktorí trpia spánkovou depriváciou, zažívajú vážne fyzické aj psychické poruchy. O snoch a snívaní sa skôr dočítame v rôznych snároch a tak im až takú vážnosť nepripisujeme.
Psychoanalýza pripisuje snom obrovský význam. Ako už formuloval S. Freud, je to kráľovská cesta do nášho nevedomia. Čo sa ale deje, keď sa nám nesníva? Alebo keď máme nočné mory?
W. Bion, jeden z najvýznamnejších psychoanalytikov, tvrdí, že snívanie je prejav a esencia našej nevedomej aktivity. Je to kontinuálny proces, ktorý beží v spánku, keď spíme a na nevedomej úrovni, keď sme bdelí.
Schopnosť snívať znamená schopnosť spať a schopnosť byť bdelý. Bez snívania ani nespíme ale ani nie sme bdelí, žijeme nevedome, všetko je akoby vo sne. Sny, ktoré si nepamätáme, nemôžu byť zažité vedomo. Sny, z ktorých sa musíme zobudiť sú klasicky neurotické. Normálne zdravé snívanie je, keď sme schopní sen dosnívať do jeho konca.
Milovať, robiť, čo nás baví, tvoriť a snívať. Aké jednoduché a aké komplikované. Najdôležitejšie ale asi je nehľadať v tom dokonalosť. Tá totiž neexistuje. Všetci máme problémy, akurát máme rozdielne mechanizmy ako sa s nimi vyrovnávame. Tak ako naleštené jablko nie je to najzdravšie, tak ani perfektne navonok fungujúci človek nedáva záruku najspokojnejšieho a najzdravšieho jedinca. Sústreďme sa radšej na to, čo je v nás a buďme sami voči sebe úprimní tak ako najviac to ide. Ak si priznáme, že máme problém, že život nežijeme, tak ako by sme chceli, aj keď napriek všetkým objektívnym parametrom by sme mali byť šťastní, je na mieste vyhľadať pomoc. Je lepšie problém si priznať a skúsiť na ňom zapracovať, ako prežiť život, ktorý nám spôsobuje viac bolesti ako radosti.
Vhodná psychoterapia je tá, v ktorej sa tvorí vzťah, ktorý lieči. Psychoterapia, ktorá je súborom techník na to, aby sme sa zbavili symptómov, nie je dostačujúca. Vytvára normopatov, ktorí navonok fungujú podľa štandardov spoločnosti, ale vo vnútri zostávajú uväznení konkrétni jedinci.
A nakoniec nezabúdajme, že duševné zdravie neznamená iba šťastie ale aj schopnosť prijať určitú mieru utrpenia v našom živote.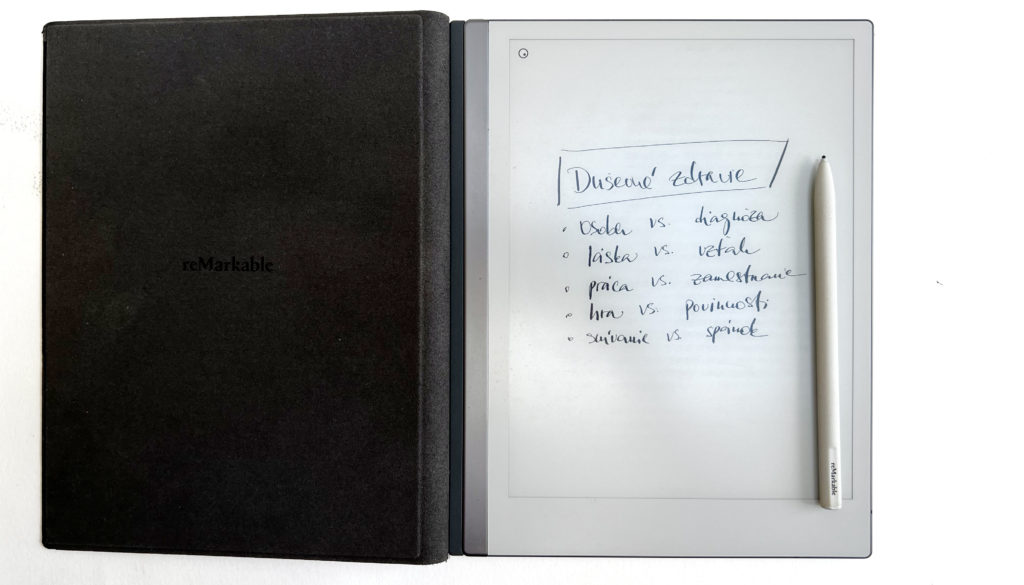 Autor: Daniela Březnová, www.reverie.sk